Compare Real Costs
Touring can be an expensive proposition, but sometimes it turns out to be more expensive than one expects. When deciding upon tour companies it is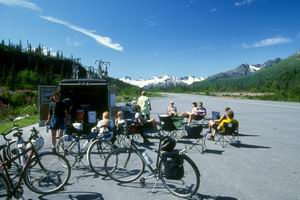 important to compare not only what is included in the listed tour price, but to look at what is NOT included. For example, most companies start their tours like this. "Day 1. We meet in Anchorage at 9:00 AM and depart…" What is not mentioned here is that you cannot get to Anchorage at 9:00 AM! You must spend the night before, and the summertime rate at almost any hotel in Anchorage is over $200! At Alaskabike your accommodations the night before the tour are always included in the tour price.
Most companies charge extra for their bike rentals. You could bring your own, but it costs about $100 to ship your bike to Alaska one way! We have found over 95% of our customers use our Cannondale bikes, so we include bike rental in the tour price.
We not only provide three meals per day on our tours, but also roadside snacks several times a day consisting of fresh fruit and a variety of nuts, granola and candy bars, juices, and soft drinks.
We have been on tours that started out inexpensive, but by the time all the options and 'not included in tour price' items were added in the cost almost doubled! That will not happen with Alaskabike! We strive to make our tour price as inclusive as possible.
What's in a day?
Itís a standard industry practice to add one day to the number of nights in a tour description. For example eight day tour will usually contain seven nights. Usually the number of nights will more closely match the actual days of the tour. At Alaskbike when we say a tour is seven days, we mean seven days of guided activities. Our final day includes a cruise across Prince William Sound, and then we get you to your hotel or the airport!
Who designs the tours?
We at Alaskabike have personally biked every mile, hiked every trail, rafted every river, cruised every cruise, slept in every lodge, and eaten in all the restaurants that are used on our tours. We can also make the same claim about even more places and activities that are not on our tours! Along with the input of our guides, who know and love Alaska as we do, we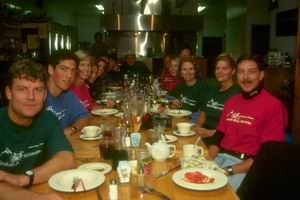 put together the best possible tours to show off our spectacular state, give you a true sense of the "real" Alaska, and provide you with a great adventure.
And with our experience as residents, safety and respect for weather conditions greatly influence our choices. There are places we won't take you, that 'Outside' companies will, because we don't consider these routes to be safe or properly supportable.
Having lived in Alaska for over thirty years, we have seen and experienced a great deal of what this state has to offer. We know where Industrial Tourism goes, and we strive to take you to the other places, to where Alaskans go when we want to get away. In our opinion what is best is not necessarily the most popular, most expensive, or the easiest. Perhaps you know from your own area, the most intriguing places are often not the most obvious.
At Alaskabike we will show you what we know to be the very best of Alaska!